Because of the increasing levels of virus transmission in the area, our ringing sessions are not open to visitors at present. Practices are being held on Tuesdays for one hour from 7.30 pm and the local band rings for Sunday services from 10.15 am. Precautions continue to ensure that ringing takes place in a "Covid-safe" and the situation will be kept under review. If you would like to visit us in the future or are interested in learning to ring, please contact ringers@stpeterstiverton.org.uk.
Whilst St Peter's band was unable to meet in person, members used the online resource Ringing Room (pictured), to keep in touch and continue learning.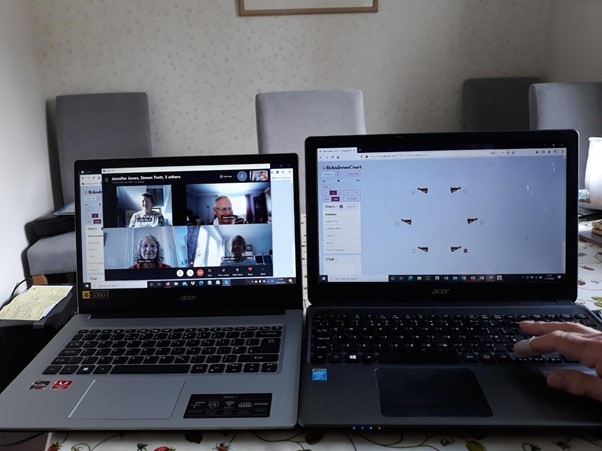 Dedication of a new peal board
A new peal board was dedicated at the morning service 1st March 2020. This board commemorates a full peal of 5040 changes of Grandsire Triples, rung on 24th November 2018 to celebrate the 150th anniversary of the first peal on the bells and the formation of the St Peter's Society of Change Ringers. Four current members and two former members of St Peter's band took part together with two friends of the society. The peal board is hung in the ringing room in the tower, along with boards that record the first and other subsequent peals.
Pictured: Rev Robert Gordon with tower captain Sheila Scofield, who rang bell 2 in the peal
In the mid-1800s, there were comments in the local newspaper about the poor standard of ringing at St Peter's and the fact that Sunday ringing was very infrequent. By 1864 the bells were found to be in dangerous condition and so a meeting was called in November 1867 with a view to forming a change ringing society in Tiverton. At the end of the meeting, 'St Peter's Society of Change Ringers' was formed and work began to have the bells put into good order. Nearly a year after formation of St Peter's Society of Change Ringers, all was ready for ringing to resume. An Inauguration Festival was held over the weekend of 26th – 29th November 1868 with a public lecture on the Thursday evening, ringing of the bells on the Friday and a full peal of 5040 changes on the Saturday, performed by ringers from St Stephen's, Bristol. A 'peal' is a continuous piece of ringing that comprises a minimum of 5000 different rows (permutations).