Your Tower needs you!
At St Peter's the Band of Ringers totals twelve and we are seeking to train new ringers in the fine art of campanology. The only pre-requisite is that you are over 12 years old and reasonably fit. Full comprehensive training is provided and you will become a member of the Devonshire Guild of Ringers (the oldest such Guild in the country, formed in 1874). The county is divided into Branches within the Guild, Tiverton being within the NE sector. Please visit: http://devonringers.org.uk/ for more information of the Guild and Branch.
This link goes to the radio coverage we received during the Recruitment Drive for the Devonshire Guild of Bellringers Armistice 100 Campaign 
http://www.tivertoncommunityradio.co.uk/local-focus
'Factoids':
St Peter's Tower dates back to the Norman period and is host to an anticlockwise stone staircase, thus making it more difficult to attack than a clockwise one;
There are eight bells housed in the chamber mounted onto a steel frame, the heaviest (tenor), weighing 2874Lb (1,304Kg): the weight of a small car.
Total combined weight of all eight bells is roughly: 10.527Lb or 4,775Kg       (4.775 metric tons).
What do we ring for? A whole host of social, community and ceremonial events are highlighted to the community through the ringing of the church bells. These include:
Church services;
Weddings;
Funerals (and memorial services such as Remembrance Sunday with half muffled bells);
Birthdays (including our monarch);
Parades;
Seasonal events: Christmas switch on; ringing the New Year;
And visiting bands ringing Peals or Quarter Peals for pleasure.
The art of campanology is quintessentially English and is a great workout for both body and mind: it beats a gym membership hands-down! It is also seriously addictive and will provide you with a superb network of friends in addition to opening up a whole new world of social activities as well.
Practice night
Tuesdays: 18:30 – 19:30hrs (muffled) and from 19:30 – 21:00hrs open ringing. Please come along for an insight; you will be most welcome. The group photograph shows the team assembled.
Training
The second photograph shows a young trainee being presented with her Level 1 Certificate in Bell Handling. There are currently three trainees.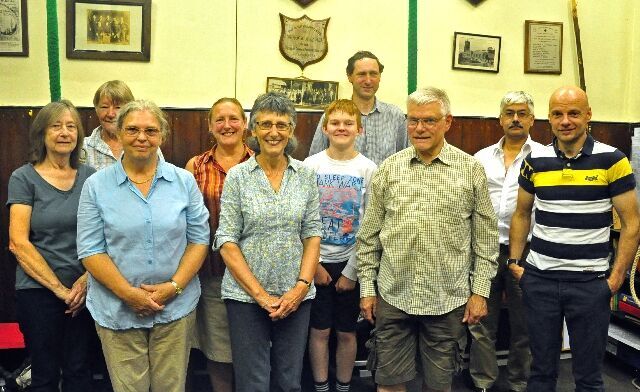 Celebratory Ringing
St Peter's Church is privileged to have one of the finest, if not the finest ring of eight bells in the South West.
The band of bell ringers is happy to ring for any special birthday/anniversary etc. that you may wish to celebrate. This
could be an unusual and unique gift for someone you know. The ringing would last 30-45 minutes at a mutually
arranged and appropriate time.
To help with the growing maintenance and repair costs for the bells a donation for this service would be appreciated.
For more details or if you would wish to discuss this further then please contact:-
Mark Heritage 07809 554541, lovejoy242@hotmail.com or
Elaine Trump 01884 252366, elaine13sallows@gmail.com