Bell Restoration Project
In 2024 we celebrate the centenary of St Peter's bells. As part of the celebration the bells are being overhauled, the bell frame repainted and the bird mesh in the belfry windows renewed. The overall cost of the three phases of the project will be about £25,000. We are grateful for any donations to help us reach this target. Click here to give online.
News from the Ringing Room
Our new recruits from 2022 now ring with us regularly on Sundays, and we have started teaching 2 learners on Tuesdays evenings from 6.30. If you are interested in learning to ring or if you know someone else who is interested, please get in touch.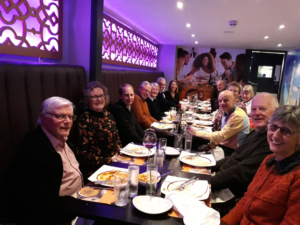 On Saturday 18th February our annual dinner took place at Mumbai Kitchen. We were pleased to be joined by churchwarden Gill and her husband Mike (a former bell ringer), as well as other partners of band members. Thanks to Elaine for organising the evening, with excellent service, delicious food and great company.
The sub-committee overseeing the maintenance and overhaul of the bells has met and agreed the work to be done, which will hopefully be completed in time to celebrate the centenary of the recast bells. More news on the progress will follow later in the spring. Fundraising efforts will be launched in May, after the licensing of our new Priest-in Charge.
Also coming up: Bellringers' Sunday on 14th May is part of a national celebration of ringing in churches. Please do join us in church that day to meet St Peter's bell ringers.
Tower Open Day
On their most recent open day, the bellringers opened the tower for tours and welcomed 45 visitors. For the climb of over 100 steps to the top of the tower, the numbers on each tour were limited, because of ongoing Covid restrictions. Each tour began in the ringing room with information about the history of the bells, facts about the tower and a demonstration of ringing by six local ringers. The tour then continued in the clock room with a visit to the 1883 Gillett & Johnson clock, which now has an electric winding mechanism. Climbing further, visitors entered the bell chamber and were able to admire the 8 bells, recast by Taylors of Loughborough in 1923. Further insights were provided here, explaining the workings of bells hung for full-circle ringing. To complete the tour, each party continued to the tower roof, to admire the view of the town and surrounding area. The fine weather afforded a wealth of opportunities to spot key buildings and places of interest. Meanwhile, downstairs in the church, displays and videos with further information about bellringing were available to enjoy with refreshments and time to chat with members of the band.