Visitors to St Peter's are very welcome and volunteer stewards from our church and the local community are available, in attendance in the church, from May until September. They will be able to give guidance and information to our many summer visitors. Ask for one of the handheld information boards which are available in several languages.
Our church counselling service is undertaken by two well qualified counsellors who have experience of working in a variety of counselling contexts. Both belong to associated professional bodies, are fully insured and engage in regular supervision so that the wellbeing of clients is ensured.  After an initial assessment session, clients are usually seen for hour long weekly sessions.
Confidentiality is guaranteed and no charge is made for our counselling service, which is part of St Peter's pastoral outreach. Although offered under the auspices of our church, our counsellors are careful never to put clients under any pressure to accept a religious perspective. Rather, clients' stances will be respected and they will be listened to with great care, following a non judgemental, nondirective and largely person orientated approach, which allows them to talk over issues of their choice and come to their own perceptions, choices and decisions.
Contacts:
Helen Fensome (Certificate in Counselling, Diploma in Counselling)  01884 256611
Elizabeth Ricks (Certificate in Counselling, Diploma in Counselling) 01884 258235        
Churches Together in Tiverton (CTT)
St Peter's is a member of Churches Together in Tiverton which consists of Christian Churches across the denominations, based in Tiverton. We worship together on the fifth Sunday of the month and seek to serve the community together in a variety of ways.
CHAT –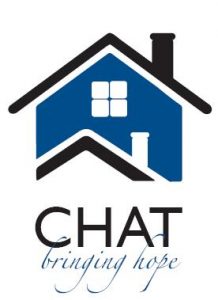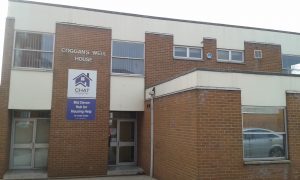 Churches Housing Action
Team (CHAT) is a Mid Devon homelessness-prevention charity, established by local Christians in 1995.  It offers free, confidential and impartial advice and support; CHAT runs the Tiverton food bank and keeps a store of donated items to help clients set up home.  Further information can be found at http://www.chatmid.org/.
Members of St Peter's support the charity by volunteering in the office, sponsoring members of the congregation who take part in the annual 'Big Sleep Out', giving monthly via the CHAT 'Giver of Hope' scheme, fundraising and contributing to the food bank – the 'Lord's Larder' container is situated in the entrance to the church.
MAKE LUNCH – CTT have joined with 'Make Lunch' and local primary schools to provide a free hot meal for children and their families through the school holidays.
OPEN THE BOOK – 'Open The Book' takes place in Castle School, where Bible stories are re-told and acted in a way which is fun and entertaining.
STREET PASTORS – See also 'St Peter's Street Pastors'
St Peter's Street Pastors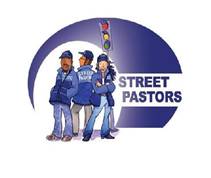 At present there is one Prayer Pastor from St. Peter's and one Street Pastor.   Both tasks are challenging in their own way – keeping awake for the former and experiencing many different situations for the latter.  A typical night's work for the Street Pastors here in Tiverton is as follows:-
Meeting at around 9.30pm having parked our cars in Tesco Car Park, we pray together with the Prayer Pastors and get ourselves ready for going out at around 10.00pm.  With pockets of lollies, water bottles and a rucksack full of flip-flops, medical kit and other paraphernalia, we set out to walk the streets, greeting all we meet, and being met with enthusiasm and affection!
We go round the various pubs and bars, talking to the door staff and reporting back to the Prayer Pastors from time to time.  If there is a situation that we think needs especial prayers we phone in and let them know.  We have radio contact with the pubs and bars and, hopefully, with the police if necessary.  Our travels can take us to the parks and to venues if there's a music festival or some other gathering.  We are always made to feel welcome and valued by nearly all we meet.
There are occasions when we come across a fight or a potential trouble spot, but, with careful and diplomatic handling, and also the very welcome prayers, most situations quieten down and we continue on our way.  Most problems occur as a result of too much alcohol, and we often have to console weeping young ladies who have fallen out with their partners, or other folk, not always that young, who are very much the worse for drink and need to be guided towards a taxi.
We return to 'base' twice during the evening for refreshment and possibly to get warm.  The wonderful Prayer Pastors have everything ready and it's good to chat and have a break.  We feel very much supported by their prayers, by the police and door staff and by so many of the people we meet.  And by the Holy Spirit, of course!
The final stint, around 3.am, consists of hanging about near the Night Club waiting for everyone to go home.  This can take up to half an hour, as no-one seems in a hurry to disperse.  There is usually quite a strong police presence by this time, so we leave everything up to them and eventually go home.  We constantly need your prayers and,  as there are only two of us from St.Peter's, we would welcome anyone who would like to join us – it's a wonderful opportunity to work with folk from the other Churches and Fellowship.  Think about it!
There are now a total of 26 active Street Pastors and 8 active Prayer Pastors; the Prayer Coordinator is Charles Lanham and the Chairman Rev. Michael Tosh.
Concerts and hiring of Church
St Peter's has the largest seating capacity in this area and is available for hire for concerts and several choirs both local and from further afield already use it. The photos show an international orchestra which has given several concerts in St Peter's.
If you are interested please contact the church office in the first instance; see
Contact us 
Visits by school and other groups and visits to schools by Clergy
St Peter's has good links with several Primary schools in Tiverton, taking weekly assemblies, running Christian clubs in partnership with other churches and hosting and organising special services at Christmas, Easter and Harvest.
Although St Peter's does not have formal links to specific uniformed groups, we are pleased to welcome young people from all the uniformed groups organisations to mark Remembrance day, to take part in the Mayor's Service.